0 views this month; 0 overall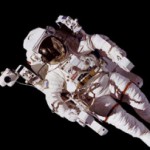 Ask a random sampling of people if they think we will have colonized space in 500 years, and I expect it will be a while before you run into someone who says it's unlikely. Our migration from this planet is a seductive vision of the future that has been given almost tangible reality by our entertainment industry. We are attracted to the narrative that our primitive progenitors crawled out of the ocean, just as we'll crawl off our home planet (en masse) some day.
I'm not going to claim that this vision is false: how could I know that? But I will point out a few of the unappreciated difficulties with this view. The subtext is that space fantasies can prevent us from tackling mundane problems whose denial could result in a backward slide. When driving, fixing your gaze on the gleaming horizon is likely to result in your crashing into a stopped car ahead of you, so that your car is no longer capable of reaching the promised land ahead. We have to pay attention to the stupid stuff right in front of us, as it might well stand between us and a smart future.