I have a confession to make. When we moved into our current house three years ago, we had to sell our clothes dryer due to gas/electric incompatibility (happens every time we move!). So we lived without a dryer for three years, hanging clothes out to dry, and generally being frugal about washing vs. re-wearing clothes. Well, after several weather-induced trips to the laundromat this winter, we (or can I lay this all at my wife's feet?) finally broke down and bought a used washer/dryer set on Craigslist. We'll still let the sun dry our clothes 95% of the time, but have other options now.
Even though this little vignette does relate to the common Do the Math theme of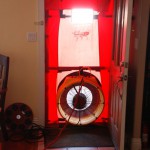 low-energy lifestyles, the actual point of bringing it up is that the washer/dryer came from a house that had just been on display as a model for energy efficiency—including the washer and dryer. At the house, we met Jason Beckman, of Classic Residential, Inc., who had carried out many of the efficiency upgrades to the house. I thought it would be instructive to have him perform an energy audit at our home—especially a blower door test to expose ventilation issues.
As a bonus, after the nominal audit activities were over, I was able to spend some quality time with the blower door, doing extensive tests in virtually every room in the house. What I found was certainly instructive for me, and hopefully will be useful to a broad audience as well.
Hits: 1437