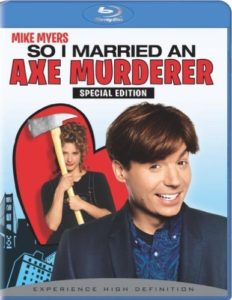 The day you met your spouse, it was love at first sight. They were charming, witty, warm and affectionate, good-looking, complimentary, showered you with gifts, devoted time to you, pledged to look after you into your old age and even to help take care of your aging parents. They impressed you with their big dreams: raising a family, buying a big house, owning expensive cars, traveling the world, and they were inexplicably adept at putting meat on the table.
It goes without saying that you got married. What a lucky catch!
It didn't take long before suspicions arose: unaccountable nocturnal absences; waking to the sound of laundry being done at 4 AM; an odd reluctance to move the axe out of the car trunk and into the garage with the other tools. But why spoil a good thing with awkward questions? Life for you is going great, so better not to rock the boat with silly notions of some monstrous secret. Plus, you're in love!
But the cops finally caught up and your yard turned into a media-infested nightmare. It took ages to even accept the possibility that this was real—not a case of mistaken identity or wrongful framing. How could such a generous and loving partner really be a violent menace?
So here's the thing: Modernity is an axe murderer, and we're—unfortunately—married to it. It isn't hard to see modernity's fatal flaw of being constitutionally unsustainable, and that it's on a violent rampage. Turns out it's been out at nights murdering the planet.
So how do we react? What does this mean for us?
Hits: 1405