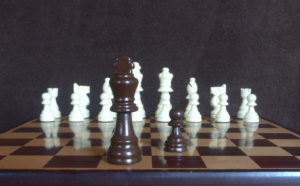 I seem to love asking questions that can't be answered definitively. Yet, attempting to do so can yield useful insights. I am gearing up to post a sizable piece about whether we can expect modernity to last, but realized that it would probably be a good idea to first take a stab at defining modernity, and to explore whether this phase in human history basically had to happen.
Perhaps not surprisingly, I lean toward the conclusion that modernity was inevitable. My position is reasonably strengthened by the observation that we are, in fact, where we are. It would be much harder to argue the counterfactual that modernity was unlikely, and simply wrong to say that it could not have happened.
I am finding that a number of people reject any application of determinism to human affairs—the insulting notion that we might be subject to dynamics beyond our awareness or control. As with many things these days, I tend to suspect such reactions as stemming from a sense of human supremacy: "surely we humans have transcended base forces and bring full agency to all that we do…" I, however, am perfectly comfortable seeing humans and cultures caught in a current, so will proceed on those grounds.
In its broadest sense, we might say that the biggest discontinuity in human ways is between hunter-gatherer mode and agricultural mode, as permanent settlements, cities, and nations only become possible in an agricultural context. From this high perch, "modernity" might be interchanged with "civilization," and therefore extend to earlier times, while those on lower branches might conceive that modernity started with televisions or smart phones. You can't please everyone. One thing I have noticed is that people seem to be somewhat willing to accept the notion of modernity's end, but react more strongly to the notion of civilization's end. So some distinction lurks in the minds of people between these two—probably in how far back we would have to set the clock upon modernity's failure (1980 isn't so bad, but 10,000 years back?  Eeek!).  I will use the term modernity throughout, but personally am willing to substitute civilization much of the time.
The term "anthropocene" is often used to describe the modern age. This is meant to delineate a new geological era dominated by the presence of humans on the planet. The idea has definite merit, given the overflowing presence of humans on the planet and our devastating impact on climate and biodiversity. My main beef with the anthropocentric term is that I wonder if it makes sense to give an era (or epoch) name to something that may be over as quickly as it started.  We don't have a name for the era between the Mesozoic and Cenozoic marked by the chaotic period in the aftermath of the comet impact 66 million years ago.  Likewise, this disruptive moment may simply delineate two eras, while the disruption itself is brief enough to appear like the thin black layer in the rock between two periods.  In any case, this post will partly lean on this human-dominance aspect in assessing inevitability.
Hits: 2258