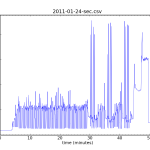 My wife calls it spying. I call it data. To-may-to, To-mah-to. It's true that I know what she's been up to (electrically) while I'm away. And it's true that I can access this information anywhere in the world that has an internet connection. But domestic surveillance is not my aim (cameras and microphones would be far more informative in that regard). I just care about the energy angle.
In this post, I will present example results from monitoring and recording my home electricity use, demonstrating the marvelous secret world it reveals. My interest lies in putting numbers on my own behaviors, and in characterizing the appliances in my house. Some of this rubs off on my wife, and some of it rubs her the wrong way. But as I explained in an earlier post, I kept a note she once wrote that said: "Okay, TED's pretty cool."
Who is TED? TED is The Energy Detective. That same earlier post told the story of TED's tortured journey to our home—a tale of excitement, rejection, and ultimate acceptance.
This post is not meant to convey anything deep and meaningful about the energy challenges we face, except for the fact that those challenges provided a background motivation for me to explore and monitor energy data in my home (it should be obvious by now that I'm a data-holic). Rather, I will simply showcase a number of data captures from TED so you can see for yourself the interesting hidden behaviors of appliances, and develop some intuition about how much of a toll various devices take.
Hits: 1103